Belize Mayan Sites
Belize was part of the original Mayan empire and there are fascinating sites to visit in every region of Belize. We recommend sparing time to visit one of these beautiful and enigmatic sites during your holiday. They include;
West - Cayo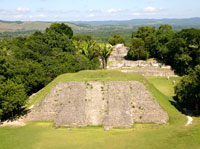 Xunantunich
Xunantunich is close to Guatemalan border and is easily accessible from accommodation in the Cayo district, although not the largest site it is well excavated and has a 130 foot high temple 'El Castillo' which still has the remains of a frieze depicting various Mayan glyphs. The temple can be climbed affording wonderful views of the Maya mountains and Guatemala. Xunantunich can be visited in a half day trip and combined with other activities in the Cayo.
Caracol
Cities such as Caracol in the Cayo were once one of the most powerful cities in the entire Maya world and is the largest and most significant site in Belize. It is now situated deep in the jungle and is less accessible than other sites and still being excavated, requiring a full day trip through the mountain pine ridge.
The main pyramid is the Caana (Sky Palace) standing at 143 feet high and is still one of the largest man made structures in Belize today. The massive platform is topped by three temples that represent three sacred mountains of creation and thus the centre of life. A visit to Caracol can be arranged as a day trip from lodges in the Cayo.
Tikal - Guatemala
Just over the Belize border in Guatemala is the impressive and largely excavated city of Tikal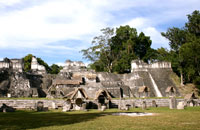 which was also one of the most powerful cities in Mayan times. Tikal has many towering temples that reach heights of 60 metres.
The plazas have been cleared and the temples uncovered but Tikal remains deep in the jungle which is home to many howler monkeys and other jungle life. A day or overnight trip across the border can be arranged from the Cayo jungle lodges.
North - Orange Walk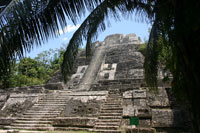 Lamanai
Lamanai in the north of Belize has a magnificent setting on the banks of the lagoon and is one of the oldest Mayan sites in Belize. Built around 100 BC, the highest temple at Lamanai affords spectacular views across the forest canopy and the lagoon, and is well worth the steep climb. The site is enshrouded in jungle and is home to Howler Monkeys and Toucans and can easily be visited from Lamanai Outpost Lodge.
South
Lubaantun and Nim Li Punit
Lubaantun and Nim Li Punit are in the Toledo district and can be visited from stays in Punta Gorda or Placencia on the coast. Lubaantun was a major city in the PreClassic period around AD 800 and has a collection of plazas, ball courts and surrounding structures. Nim Li Punit is believed to be a religious and ceremonial centre and a number of stelae (carved standing stone) have been discovered here including the largest ever found in Belize.